She is the staunchest and proudest Aussie you could ever meet. But it is a flag of another nation helping inspire surfer Sally Fitzgibbons ahead of her Olympic debut.
One month to go before the 2021 Tokyo Olympics Australian surfer Sally Fitzgibbons at her home beach Gerroa in NSW. Surfing will be included for the first time at these Olympic Games. Pic. Phil Hillyard
Sally Fitzgibbons has long been dreaming of enfolding herself in an oversized Australian flag and celebrating winning a historic Olympic medal in surfing.
But strangely, it is the flag of another country providing the 29-year-old former world No. 1 with some special inspiration ahead of her chase for gold at the Tokyo Games next month.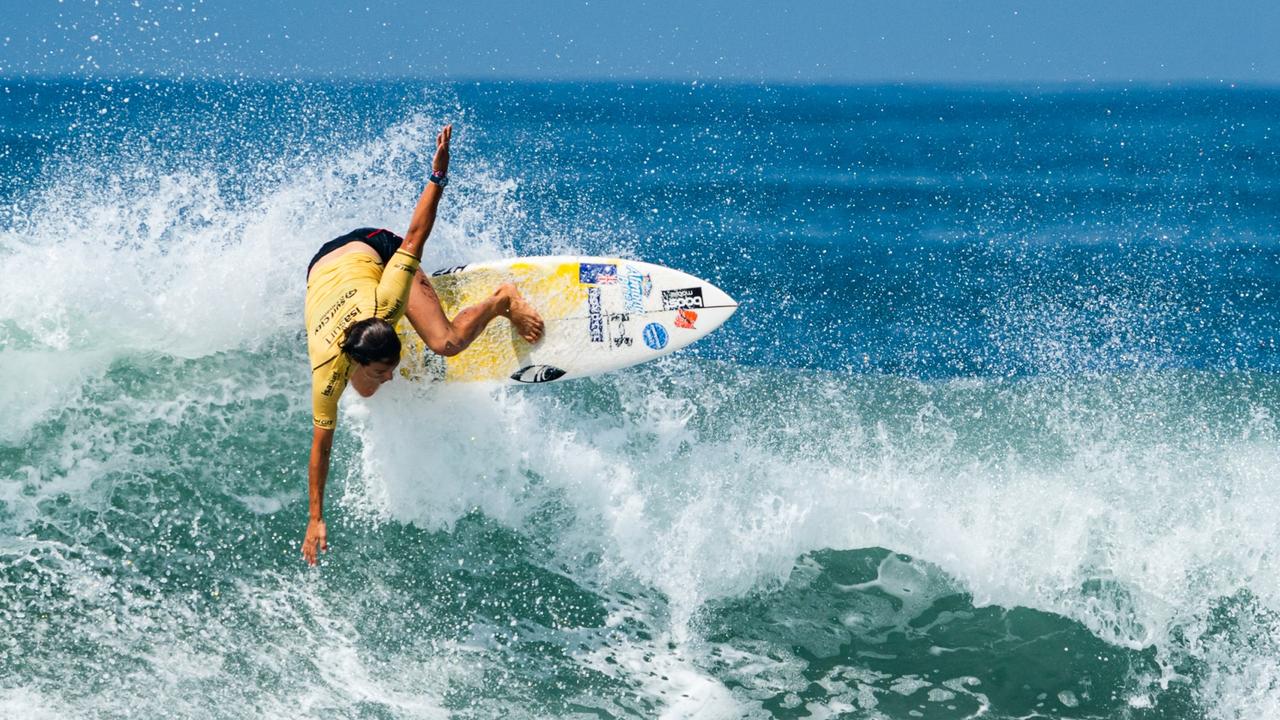 Sally Fitzgibbons surfing to her gold medal at the world game. Pic: Surfing Australia
"I have a few special things I always have with me," said the surfer from the far NSW south Coast town of Gerroa who "balled all the way home on the train'' when she couldn't get close enough to Cathy Freeman to sign her hat after the 400m runners stunning Sydney Olympic triumph.
"One is a special necklace that mum and dad gave me, part of the Tiffany Atlas series, just after the world surfing game in Japan in 2018 so that's pretty special. I won there whuch is ncie.
"And I always have the Senegal flag with me. At the World Games I surfed against them and it reminds me of how sport crosses over cultures, how sport is so big.
"They wrote a special message on it and translated it means 'you have the heart of a lion'. I read that. It inspires me. It's very special."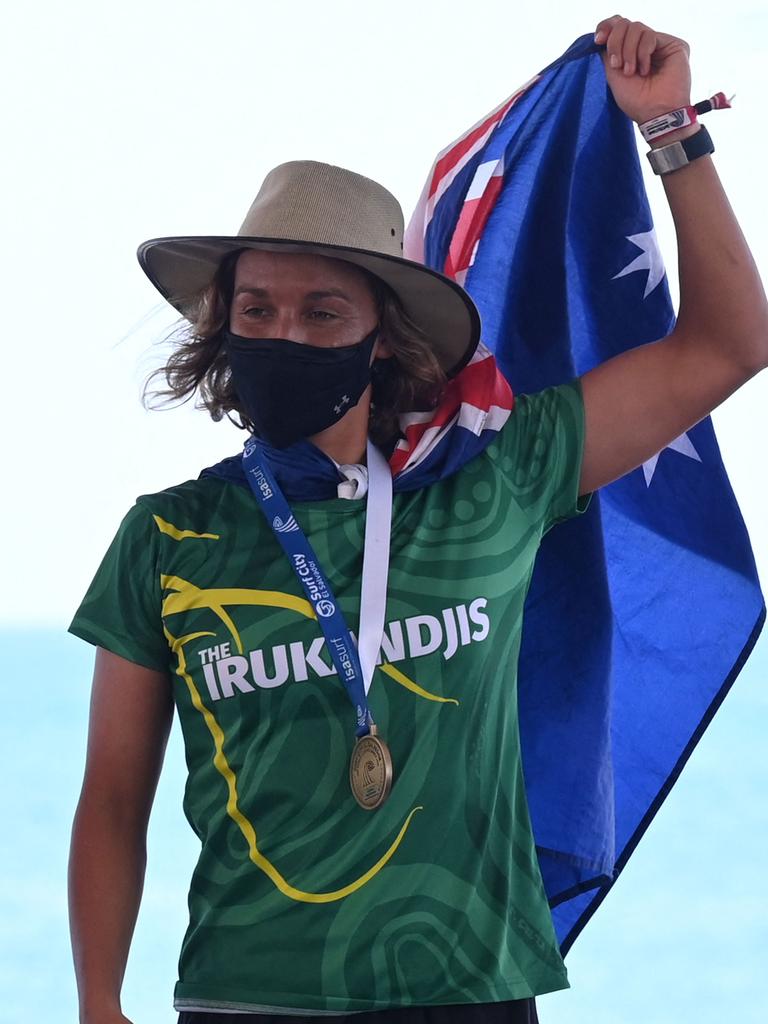 Proud Australian surfer Sally Fitzgibbons after a recent win in El Salvador.
Fitzgibbons, who has lightened up and worked overtime to improve her air game for the expected small surf during the Olympics, always knew she wanted to compete at the highest level of sport.
A talented runner she showed precocious talent in surfing and made the switch as a teen, cracking the world tour in 2008 and regularly finishing in the top five surfers in the world.
When surfing was accepted into the Olympic program for Tokyo back in 2016 there was no one more excited than Fitzgibbons.
"It's an absolute dream come true," she said.
Now Fitzgibbons, who will compete in Tokyo with seven-time world champion Stephanie Gilmore, Owen Wright and Julian Wilson, is in the box seat to make her dream a reality with a breakthrough win on the world tour in Western Australian this year along with gold at the recent International Surfing Association World Games in El Salvador.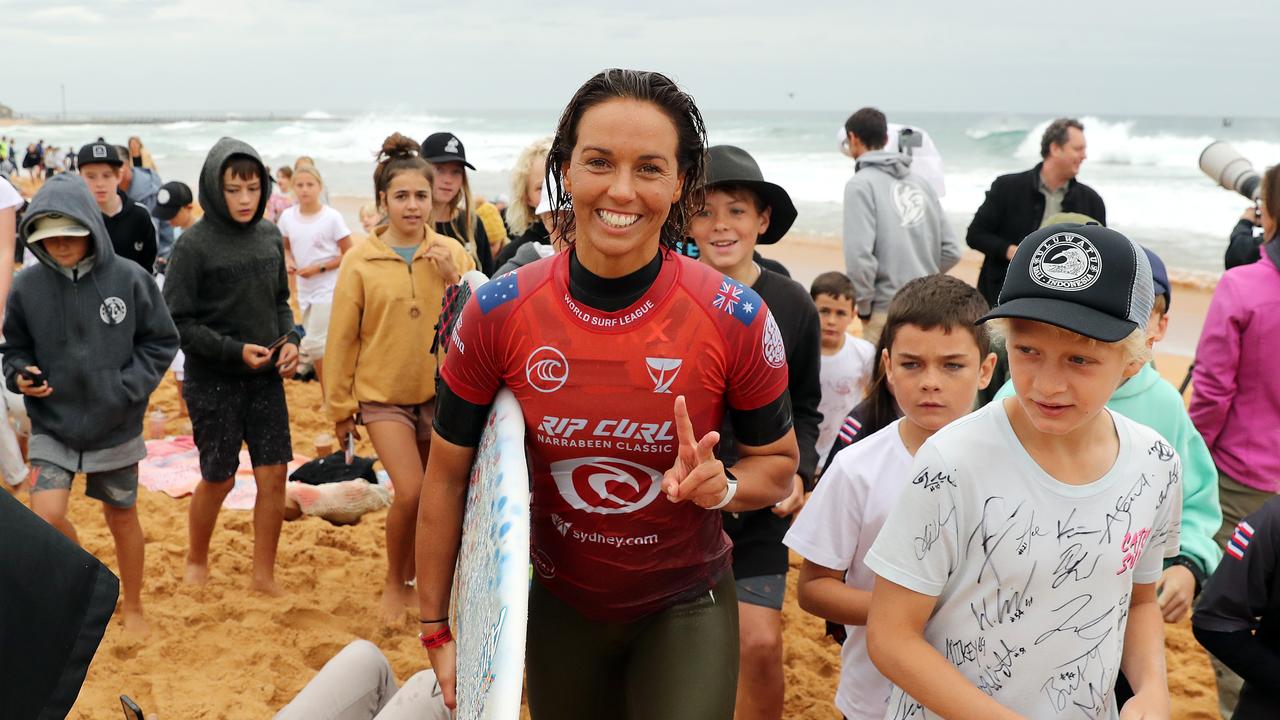 Sally Fitzgibbons is one of the most popular surfers on the World Tour. Pic: Tim Hunter.
"This feels like part of my DNA. I have lived every version of going to an Olympics for so long," she said.
"I see myself in the line-up with a big cheesy grin on my face. There's black sand on the beach, I'm sitting out the back, in the middle of the heat, and I'm going WOW. It feels like home.
"I can't wait to get there. I am so pumped.''
Subscribe by Email
Follow Updates Articles from This Site via Email