Sam Bleakley is an acclaimed longboarder and
author
from Cornwall's far westerly tip. For the last few years, he's been travelling the globe exploring emerging surf cultures for a documentary series entitled
Brilliant Corners
, the first six parts of which aired last year on the WSL website.
From Papua New Guinea in the farthest reaches of the South Pacific to the bustling coastal city of Dakar in West Africa, each episode showcased a distinct coastal culture, exploring its unique relationship with wave riding and meeting the trail-blazing individuals at the heart of the community.
Taking in some of the world's most extreme climates, Hydro Flask served as an appropriate presenting partner, offering refreshing re-hydration on the go from its range of lightweight and fully insulated bottles. Because whether you're on a sweltering city beach or navigating a tranquil tropical reef pass, a bottle that keeps your beverage cold is the ultimate travel companion.
Recently, we caught up with Sam and asked him to reflect on the Brilliant Corners journey so far and share with us some of his most memorable experiences and any pearls of wisdom gleaned along the way. Here's what he told us: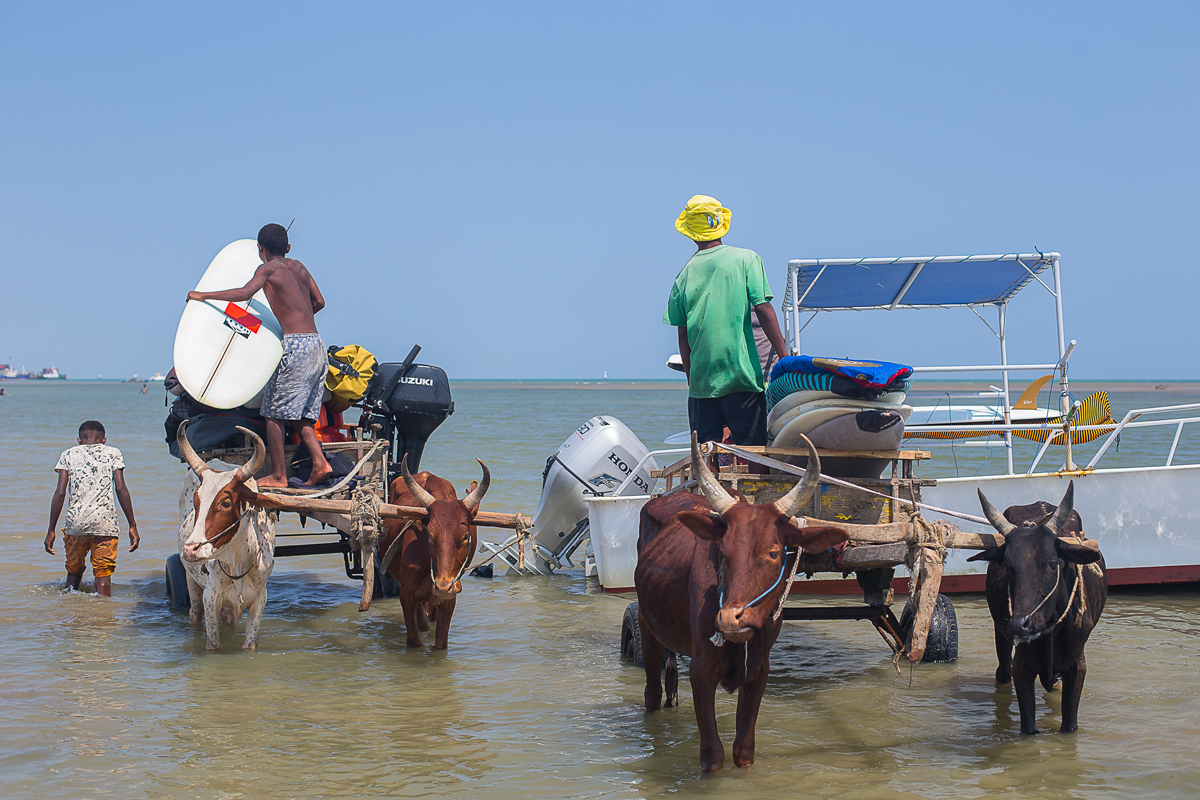 Photos: (L) @gregwdennis (R) @jimmyjamespary
Madagascar & Papua New Guinea
I kicked off the new season with the WSL in Madagascar travelling with good friends Mike Lay and James Parry. Carrying the burden of our carbon footprint, it's essential that all travel has some kind of local benefit. It's crucial to really try to get under the skin of these issues if you want to help make a positive impact and spread money into communities through supporting local initiatives. Working with Mada Surf Tours who do a lot of educational work in Anakao and buying a locally shaped balsa alaia was a great start.
Photos: Courtesy of Brilliant Corners // WSL Studios
Then to Papua New Guinea where I really got inspired seeing one of the most progressive models of surf tourism management on the planet. Here complex traditional laws govern the use of coastal land and fringing reefs where family clans are the custodians of surfing resources. The Surfing Association of Papua New Guinea have translated this into a surf resource management plan that puts the local community at the heart of the development, so revenue goes directly into the area. Instead of a foreign-led, top-down approach, they have a bottom-up, community-centred strategy that keeps the local community as key decision-makers in the management of their own resources. Alongside this, they have done some powerful work in tackling gender inequalities through the so-called 'pink nose revolution'. Basically, as the surf clubs were getting boards donated, in order to stop the boys from taking ownership of all of them in the more patrilineal areas, painting the noses of half of them pink, female surfers are given exclusive ownership and their equal status is made visible. This is a simple but powerful tool to promote women's participation in surfing.
Watch Madagascar: Part I, Part II, Part III.
Watch Papua New Guinea: Part I, Part II, Part III.
Photos: Courtesy of Brilliant Corners // WSL Studios
India
As far as emerging surf cultures, India excites me tremendously. There is over 7,500 km (4,700 miles) of coastline on this vast sub-continent, and both the east and west coasts receive consistent swell from the Indian Ocean, as do two well-placed archipelagos: the Andaman and Lakshadweep Islands. Although still small, the local surf culture is vibrant, and growing fast, with clubs, grassroots surf-brands, young rippers and the Surfing Federation of India (SFI) organising surf instructor courses through the ISA. Soul & Surf is a really cool surf and yoga camp in Kerala where the local surf instructors are fantastic characters who give you such a warm welcome. Listening to one of the pioneers Rakhul Shyamraj tell me about his first-ever green wave was hilarious. "I was pumping my hands," said Rakhul, "and telling to random people, 'I got a such a nice wave man.' The people replied 'Who did you wave at today?' 'No I mean I got such a nice green wave.' And I was like laughing the whole day because I was so happy." What a character. Surfing is still so fresh in Cereal that nobody really knew what he was talking about. Rakhul might well be the funnest surf guide and instructor to hang out with in the world.
Watch India: Part I, Part II, Part III.
Photos: (L) @Jackjohns (R) Courtesy of Brilliant Corners // WSL Studios
Senegal
I travelled to Senegal with Easkey Britton and Adrian Toyon. We stayed at N'Gor Island Surf Camp. The Senegal surf scene is buzzing with a real high standard. Senegal's first pro surfer Omar Seye has worked wonders with a new generation led by Cherif Fall, and it's great to see Aita Diop breaking boundaries for women's surfing here. The future is bright for Senegalese surfing. But like all of West Africa, life here can be tough and confusing, the nights hot and pungent like sulphur. The local music follows the same tracks, right in your face and ringing in the ears. But I always come back for more because this music is infectious. The popular tunes here are no different, filled with the frenetic beat of the sabar drum. Mbalax is the national music of Senegal, layered with rhythms and luscious lyrics. But the foundation for this is the djembe drum and the West African djembe drums definition is to 'bring people together in peace' which is the main purpose of this music. We spent an epic afternoon listening to local drummers. In music, I'd say that there is nothing closer to surfing than drumming. Good drummers form patterns and polyrhythms, with rolls and snaps. And good surfers snap and roll in rhythm with the wave. With so much cultural emphasis on dance and movement, I think African surf cultures can bring awesome new things to wave riding.
Watch Senegal: Part I, Part II, Part III.
Photos: Courtesy of Brilliant Corners // WSL Studios
Algeria
The Mediterranean coast alone embraces 22 countries, and every winter undiscovered breaks will light up in this region. I tacked Algeria with Erwan Simon, Lucy Small and local surfers Dihya Nasri and Walid Assef. After a good run of mistral swell around Bejaia and the capital Algiers, we couldn't resist heading in-land to experience the Sahara Desert and the ancient city of Ghardaïa. But our momentum was broken as we got caught speeding, the police pulled us over, recognised that we were tourists, and demanded we had a police escort for safety. In the years of turmoil during the brutal civil wars here, foreigners were easy targets for extremists, and paranoia lingers, particularly in the desert. At every border of every region we had to pick up a new police escort. On the way back home, going at about 150 km per hour, we inevitably burst a tyre. But thankfully we had about eight Algerian well trained military police commanders and officers on hand to help change it. That was surreal. In two 12-hour trips in 48 hours we probably met 60 Algerian policemen. Algeria was an incredible adventure.
Watch Algeria: Part I, Part II, Part III.
Photos: Courtesy of Brilliant Corners // WSL Studios
Zanzibar
Most recently I travelled to Zanzibar to meet local surfer Hussein Yahya Hussein and the crew at Aquaholics Surf and Kite Centre in Paje. For sure the most powerful experience of years of travel was going to the remote village of Makunduchi to see a prestigious witch doctor and shaman who is revered throughout the island for his ability to communicate with nature spirits and ancestors to help resolve both social and medical problems. The waiting room was deep in the forest canopy and we met him in a limestone cave where he can feel much closer to the 'shetani' or spirits. Zanzibar is such an acclaimed centre of witchcraft that people have come from as far afield as the voodoo heart of Haiti to learn the deepest mysteries of this tradition. I just had the humble request of safety for the trip, and the witch doctor lit up incense, smoked out the cave with the intoxicating smell of sandalwood and performed a ceremony that definitely took me to another place. That was something that I will cherish forever.
Subscribe by Email
Follow Updates Articles from This Site via Email