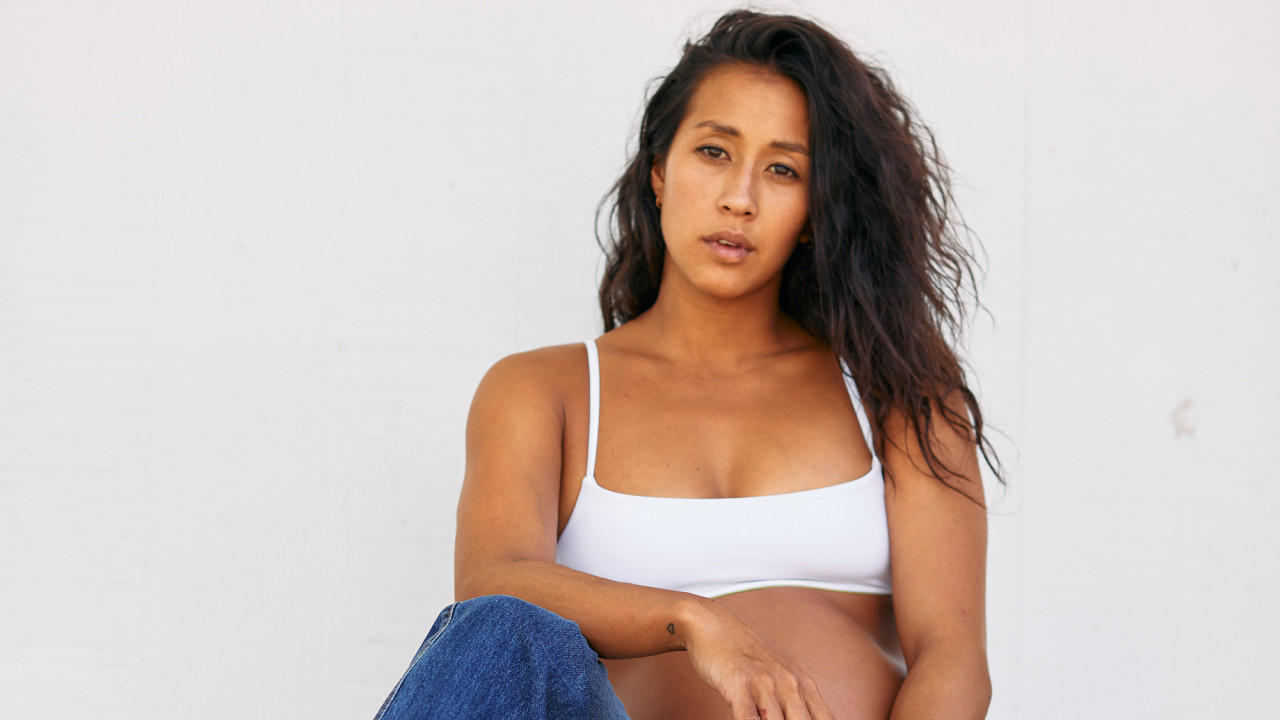 To anyone unfamiliar with the sport, the concept of surfing can seem rather daunting. You balance your body on an unfixed platform that floats on the water—not only that, but you are supposed to somehow literally ride a wave from the depths to the shore. OK, now imagine doing that seven months pregnant.
World-champion surfer Kelia Moniz found out she was pregnant just before lockdown, but that wasn't going to stop her from surfing. Aside from general fatigue, the surfing process stayed generally the same until the past few months due to the newfound size of her belly. Moniz can no longer paddle on her stomach, but instead does so on her knees. She is also riding a slightly larger board to accommodate the extra passenger riding along with her.
Surprising to most, Moniz says she is surfing better than she ever has. "It actually is really motivating to know what your body is capable of," she explains. "My body is doing so much more than it ever has, and I'm still in one piece." The entire process—all the challenges and obstacles—have cemented her goal of another world title. "Seeing how I'm able to do this makes me realize I have literally zero excuses as to why I shouldn't be pursuing competitive surfing because I can still surf at that level while pregnant."
As an athlete, Moniz has a unique relationship with her body. Not only does it provide her with a career and, therefore, an income, it is the mechanism through which she finds passion while surfing. So taking care of her body is a priority above all, a concept which lockdown has made oddly easy. "I've never been home this long, ever, so I've really just been able to take care of my body, to surf and enjoy these last few months before my life totally changes."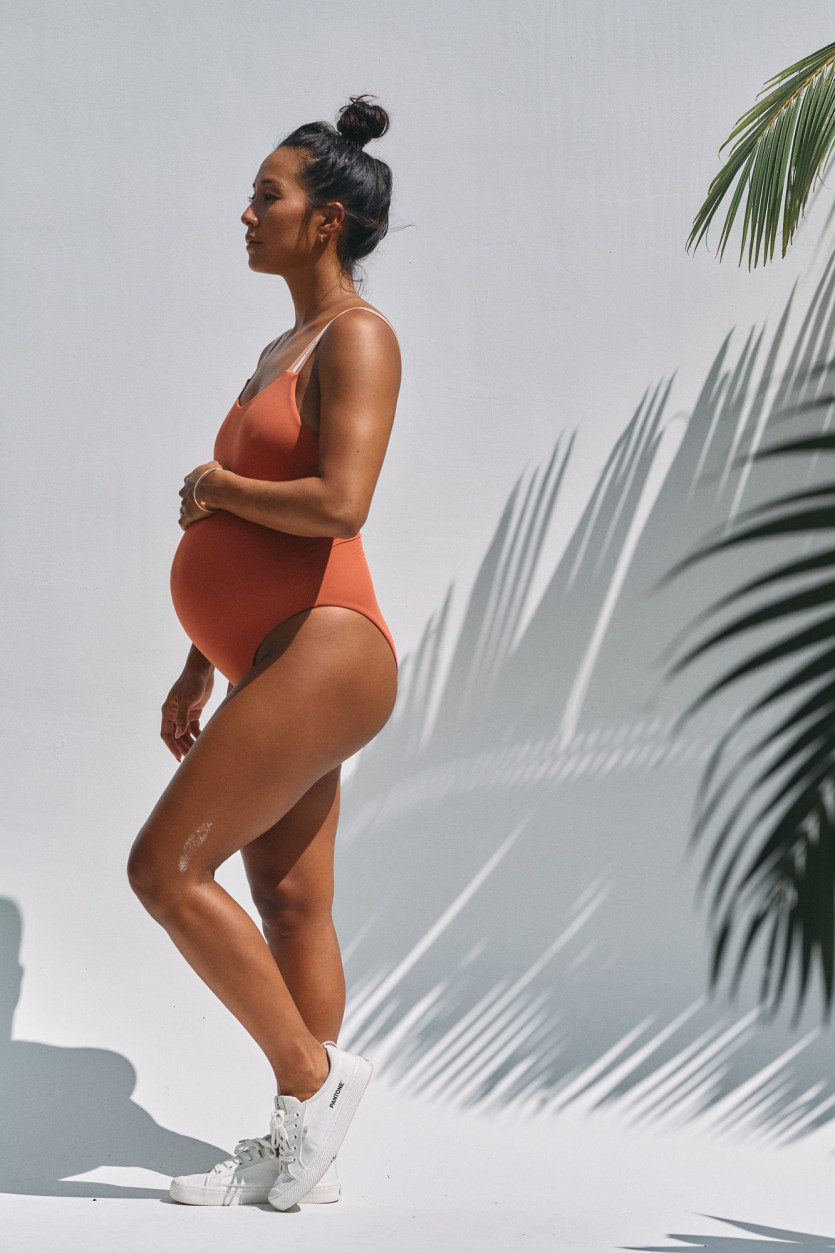 "SEEING HOW I'M ABLE TO DO THIS WHILE PREGNANT MAKES ME REALIZE I HAVE LITERALLY ZERO EXCUSES AS TO WHY I SHOULDN'T BE PURSUING COMPETITIVE SURFING BECAUSE I CAN STILL SURF AT THE LEVEL THAT I'M SURFING AT WHILE PREGNANT."
Moniz grew up in a surfing family as one of five kids, all within five years in age. While surfing was never forced on them, "when you live in Hawaii, you're surrounded by the ocean," says Moniz, "so there's not much to do if you don't enjoy the water." And surfing during COVID-19 has brought her family closer together than ever.
As a no-contact, water-based sport, it's one of the few things that lockdown never prohibited. The young athlete watched as more and more people began to surf, forging an even deeper connection with the ocean—and acting as a constant dose of sanity during the madness. "It has meant everything," she reiterates, and for the first time in decades, the empty beaches have allowed for the locals to participate at a much greater rate.
Tourism is a huge component of the Hawaiian economy, which lockdown effectively reduced to somewhere near zero. And while Moniz acknowledges how important it is financially (both her parents depend on tourism), she says the locals have never had greater access to the beaches and the ocean. They've been privy to a completely different version of their land. "It's allowed us to see what Hawaii looked like back in the day without the beaches being cluttered," she says.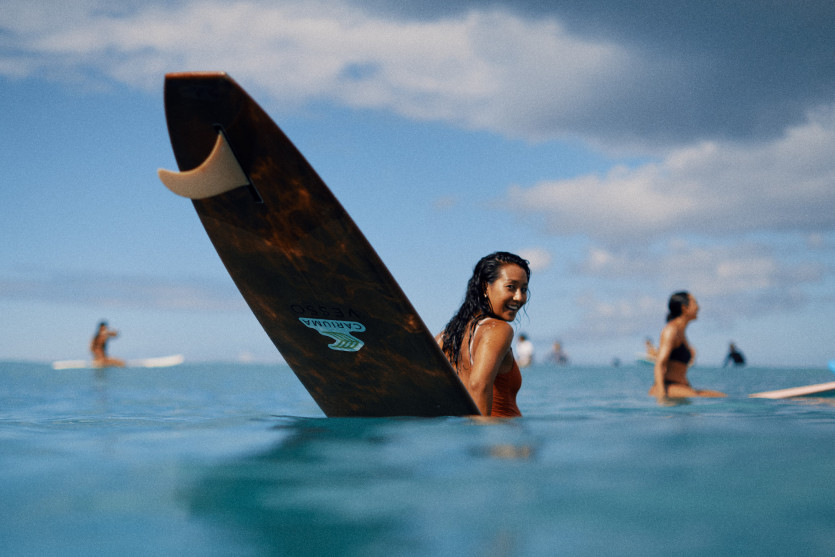 "I'VE NEVER BEEN HOME THIS LONG, EVER, SO I'VE REALLY JUST BEEN ABLE TO TAKE CARE OF MY BODY, TO SURF AND ENJOY THESE LAST FEW MONTHS BEFORE MY LIFE TOTALLY CHANGES."
"As a surfer, I feel a tangible connection to the ocean," explains Moniz. So her new partnership with sustainable sneaker brand Cariuma could not be a better fit. "The founders have the same connection and dedication to a better world that I do, and I am so excited to kick off my work with them."
The word sponsor can often take on a negative connotation in today's insta-perfect branded-content-hungry world, but to an athlete, specifically a surfer, it's so much more than that. "There are very few brands that have the funds to support professional surfing at a level where you can actually make a living," explains Moniz. When sponsorship is how you generate a livable income, it then becomes a real partnership with a brand whose ethos you believe in.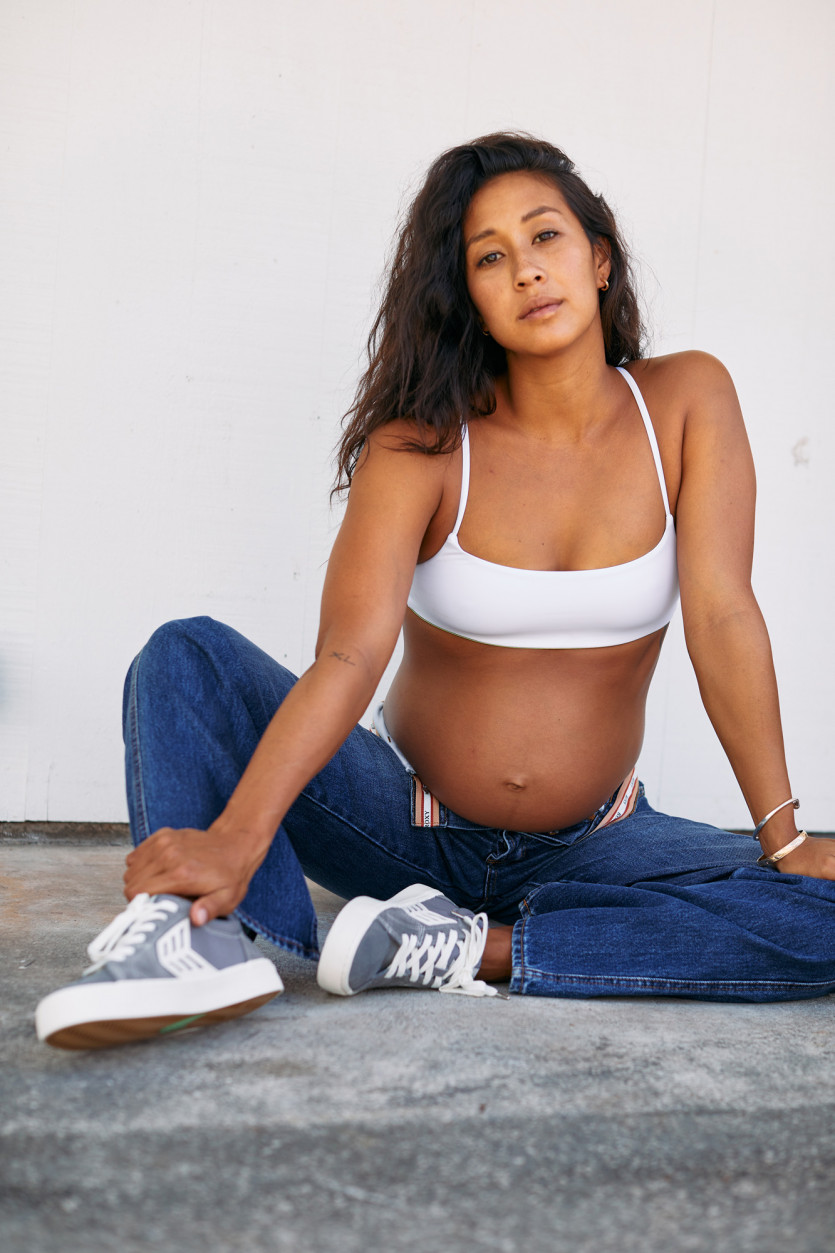 Caught between her pregnancy, lockdown, and a lifestyle that revolves around surfing, surface-level things like fashion and beauty have taken a backseat. "I haven't gotten my hair cut. I barely put makeup on. I've lived in bathing suits and sneakers for the past eight months, and it's been fantastic"—something we can all relate to. "If you're ever pregnant, you know how valuable having comfortable feet actually is. It was the perfect timing for this partnership because it's literally all I wear because my feet hurt all the time.
"The beauty that I think, not only myself, but a lot of people are taking away from COVID-19 is we're able to just strip back the layers on what heavy expectations the modern-day life has put on a lot of people, and the reality of what matters has been able to sink in—what you do every day, what you have, money—all that shit, honestly, at the end of the day doesn't matter because look at what we're facing."
Even if your version of finding peace doesn't involve setting a goal for your next world title (we wish), everyone could all learn a thing or two from Moniz's pared-back approach to life. For starters, it seems we all need to hop on a surfboard.
Photos: Mason Rose
Subscribe by Email
Follow Updates Articles from This Site via Email