MICK FANNING WINS FOURTH RIP CURL PRO BELLS BEACH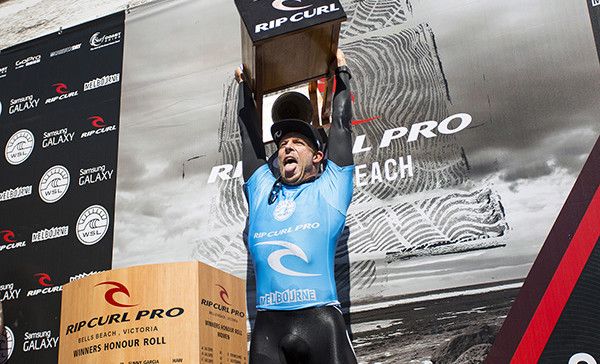 BELLS BEACH, Victoria/Australia (Thursday, April 9, 2015) – Mick Fanning (AUS)
has won the Rip Curl Pro Bells Beach after battling 2013 Bells Beach winner
Adriano de Souza (BRA)
for the right to ring the Bell. Finals Day at the 54th anniversary of the event saw conditions clean up for the 35-minute bout while the two Bells champions delivered the closest Final in Championship Tour (CT) history.
Victory for Fanning today means that he is tied with
Kelly Slater (USA)
and
Mark Richards (AUS)
with four Rip Curl Pro Bells Beach wins each, the most in the event's history. Fanning first won in 2001 as a wildcard and then again in 2012 and 2014. The three-time World Champion also ties with Andy Irons (HAW), who both have 20 CT event wins.
"I'd never put myself in a category with MR (Mark Richards), Kelly Slater and Andy Irons," said
Fanning
. "Those guys are my heroes. MR is a god, Kelly is a king and Andy is forever, it's awesome."
The first ever tiebreak Final puts Fanning on a path to his fourth World Title and he will take the gold leader jersey going into the third event on the Samsung Galaxy World Surf League (WSL) Championship Tour (CT) in Margaret River. Today's match-up was the pair's tenth in CT history, including three at Bells Beach, and Fanning has taken seven wins while De Souza has three.
"Bells is a special place for me and it's the first event I ever came to as a kid. The support and the crowds here are always amazing," said
Fanning
. "Every time I paddle out I just want to do my best, throw myself into it and not have any regrets. You have to take it heat by heat because you never know what's going to happen next. Every year on this Tour we all give it our all and try to put on a good show."
"Today is the first time a CT Final has ever been tied, which is radical. As elating as the win is for me I know it's heartbreaking for Adriano," continued
Fanning
. "He's such a top bloke and he throws his heart into everything and he trains so hard. He's the elder statesman for the Brazilian storm and he does an impeccable job at leading them."
Photo:WSL / Kelly Cestari
De Souza was first take a wave in the Final for a small score, backing it up with 20 minutes remaining to put the pressure on and leave Fanning scoreless. The Australian went down on his first ride and De Souza quickly capitalized on the mistake by unleashing big turns for a 7.50 and a 13.83 heat total. Fanning came back with an impressive layback hack, clean rail work and a series of critical turns for an excellent 8.17, putting him back in contention. Another wave with ten minutes remaining saw Fanning claim the lead with a 7.10.
De Souza, the only Brazilian male to ring the bell, continued to demonstrate smooth, seamless surfing, searching for a 7.78 to take back the top spot. He was awarded 7.77 leaving the pair tied with 15.27 each. In a tiebreak situation the highest single-wave score wins the heat, which was Fanning's 8.17. With less than two minutes remaining De Souza couldn't find the score he needed and leaves Bells Beach with a second-place finish, 8,000 points and moves up to third place on the WSL rankings.
"It's a dream come true to make a Final here at Bells," said
De Souza
. "This is such an amazing place for me and it was so special to put my name on this trophy in 2013. Every time I come here it's a special experience."
"Mick really deserved to be number no. 1," continued
De Souza
. "Thanks so much to everyone back home and everyone who came down to the beach to support us. Thanks to Rip Curl and WSL for putting on another big event and see you next year."